Thousands of construction companies build accessory dwelling units (ADUs). Many offer turnkey solutions, doing everything from the plan and permit submissions to handover. But what about homeowners with DIY savvy who want to build their own ADU, or hire labor to do it for them?
One way to build your own ADU is to find a company that supplies ADU kits. When I saw some companies advertising ADU building kits online, I decided to find some more and check them out. Some only supply certain areas, while others will ship countrywide. Here's what I found.
The idea of kit home homes isn't new. Companies have been selling them for decades as a low-cost solution for housing. The idea of ADUs isn't new, either. So, it's not surprising that many companies are now marketing their kits as the ideal solution for DIY-friendly ADUs. (Two other ways to build an ADU are traditional ground-up construction or buying a prefab or modular solution. We compare those two options here.)
ADU kits range from those that include just the basic structure to those that include everything. Some even come with foundation materials and hardware for doors and windows. They may include plumbing and electrical fittings, or these may be offered as an upgrade. Most have detailed instructions that a keen DIY enthusiast will be able to follow.
A Note About Laws
State, city, and county regulations vary, which is why you should check to see if you can even build an ADU in the first place. Some lot coverage might limit size. The California State code, for example, has a minimum size for ADUs of 150 square feet.
Another common restriction is that ADUs cannot be more than 50 percent of the size of the single-family residence on the property. According to the National Association of Realtors, an ADU in Portland, Oregon can be up to 75 percent of the square footage of the main house, as long as it isn't bigger than 800 square feet.
In general, it's just a good idea to know what your city and county allow, and to check with the building and permit department on what you can and cannot do.
Companies That Make ADU Kits
In alphabetical order, here are 21 companies I found that make ADU kits. Most make primary home kits as well as ADUs, so the size range is incredibly varied. You will find that there are models that will suit the variable needs of homeowners while meeting city and county requirements. So, dive in and explore.
Before you order, be sure you know what the kit includes. It might just be the structure. Most kits don't include plumbing and other utilities, and many don't include finishes of any kind.
Allwood Outlet
The New Jersey-based Allwood Outlet sells small, midsize, and large cabins, many of which will be ideal for ADUs. Sizes cover every possible need, and prices are hugely competitive. But the kits are very basic. Lots of their products are available on Amazon, and free shipping is a common feature.
Some of the small, very basic designs will take a couple of experienced amateur handymen less than a week to build. But if you're building an ADU, you'll need utilities, and you won't be able to install these without professional help. Installation of utilities will also add time (and money) to your project.
Avrame Homes
If you're looking for a tiny ADU, Avrame, USA might be able to provide the answer. The tiniest unit they sell as a kit is just 140 square feet in size. It comes with architectural and structural engineering details as well as plans for the foundation and structure, pre-cut components, and custom hardware.
Even the factory-fabricated roof trusses are pre-cut and pre-drilled to make it super-easy to erect the roof structure. You will also get custom hardware in the form of bolts and washers for trusses.
The company also supplies step-by-step plans that enable customers to create their own tiny ADU homes. If you have the building experience, you can do it on your own. Otherwise, hire a contractor.
You can choose whether to buy the minimum kit option that will enable you to build the basic structure or to add the interior and/or exterior kits. Check the company's website to make sure you understand what they provide.
Bungalow in a Box
The name says it all. You get an ADU bungalow delivered to your home, in a box! Suitable sizes range from 192 square feet to a much larger, 1,152 square foot structure. But they also supply much larger kits (and they built a panel-frame structure that was 4,400 square feet in size!).
This company, based in Maine, has been going since 1998. They specialize in what they call panel-framed structures. The techniques you need to assemble a Bungalow in a Box are efficient and quick to learn and do.
What's different about this kit-building company is that they meet with all their clients and custom-design their ADU kits. Once the company approves the client's design, they will fabricate the kit.
California Modulars
California is a state leader in ADUs, so it stands to reason there will be some top ADU kit companies in the state. California Modulars advertises itself as a one-stop-shop. Customers have the option to buy shell-package kits, order according to their own plans, or get the company to do it all for them.
Shell kits include wood-framed wall panels, trusses or pre-cut roofing joists, pre-cut beams and posts, and any framing materials needed. They also include windows, exterior doors, exterior house wrap, and weather barrier materials, pre-stained or painted sidings, pre-cut metal roofing and underlayment, fascia and soffits, decking, and anything else needed to complete the exterior shell.
Local subcontractors will need to complete the drywall, insulation, electricity, and plumbing, as well as the heating, ventilation, and air conditioning (HVAC) requirements. None of these materials are in the kit.
Finish kits include interior doors, tiles, flooring, cabinets, plumbing, lighting, countertops, hardware, and just about everything else. But, of course, this all impacts your final price. So check with the company to be sure.
Cedarshed
If you are dreaming of a backyard bedroom shed, Cedarshed might have the answer. You'll have to add all the necessary utilities, but the kit will provide you with the basics. You will even get decorative shutters and planter boxes, and shipping is free.
You will need some basic carpentry skills to put Cedarshed kits together.
Deltec Homes
Deltec Homes, based in North Carolina, specializes in intriguing custom roundhouses that are available in prefabricated kits. Because there are no load-bearing walls inside these homes, floor plans are all totally custom. You decide what you want. They ship kits in panels, which is ideal for DIY builders.
While Deltec designs aren't specifically aimed at the ADU market, they fit the niche perfectly. Typical sizes range from 700-1,000 square feet, 1,100-2,400 square feet, and bigger. Standard kits only include the shell, though. If you want siding, windows, porches, and other extras, it's going to cost you more.
A welcome benefit of Deltec Homes is that the company is committed to green building goals. Their mission incorporates environmental responsibility, and they encourage customers to go the green route. If you're looking for an ADU kit that will deliver a net-zero home, this is one option you mustn't ignore.
Eco Home
Designed as tiny homes, Eco Home kits are LEED Platinum-certified, net-zero, and off the grid. So if you want a green ADU kit, this is a prime option. Designs make the best of passive solar gain and are ideal for holiday homes or ADUs.
ADU kits include exterior walls, prefinished roofs, and high-performance triple-glazed windows and doors. There are also options for garages.
Eco Home's standard prefab LEED dressing is 513 square feet in size and it has only two rooms. The kit plans do include kitchen and bathroom areas, although you will have to organize your own materials and professionals to complete these areas.
What you will get is a great prefabricated, energy-efficient design in kit form.
EZ Log Structures
EZ Log Structures specializes in an enormous range of DIY building kits. You can buy anything online from a basic 35 square foot shed and cabins, to homes that are 2,046 square feet in size. Of course, the favorite ADU sizes are all available too, in one and two-story configurations. Some prices include free shipping.
EZ Log Structures' kits are simple and easy to assemble. The smooth, milled logs are interlocking and, once you assemble the structure, all you do is seal or paint it. The company includes all doors and windows in its kits.
The company has been operating in North America for more than 10 years and has offices in the U.S. and Canada.
Hardware Hawaii
Hardware Hawaii is a local company that offers five ADU models with a bedroom, bathroom, and kitchen. Designs range in size from 400-800 square feet. They cater specifically to the local community, including helpful information on local laws. So, if you live in Hawaii, this is an excellent option for your ADU.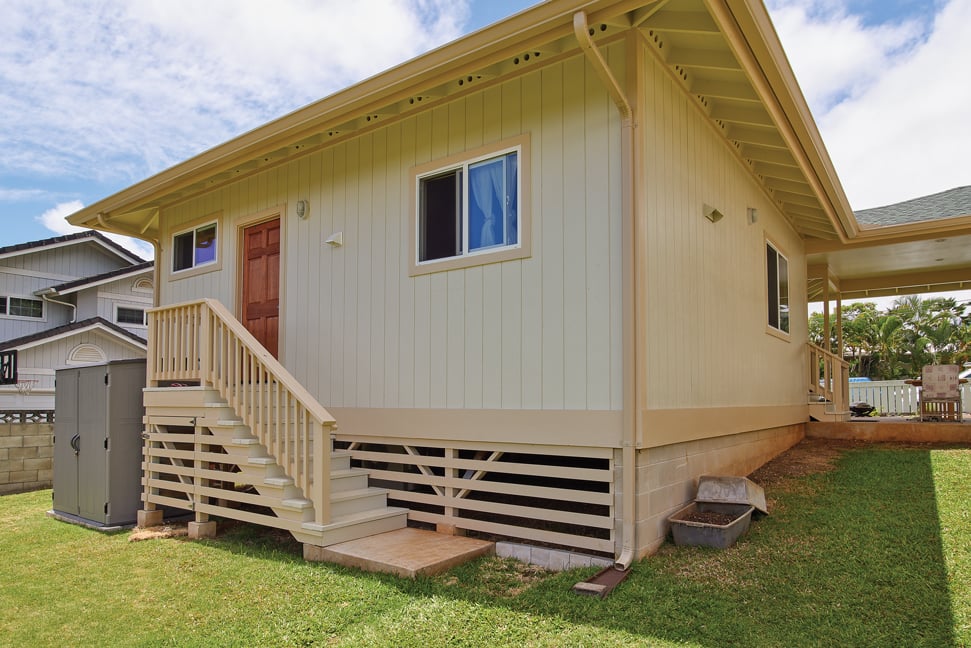 Jamaica Cottage Shop
The Jamaica Cottage Shop has several ADU options, all of which offer free shipping. Kits are pre-cut and include everything from floor systems and walls to doors, windows, and roofs. Some designs include a loft and a loft ladder.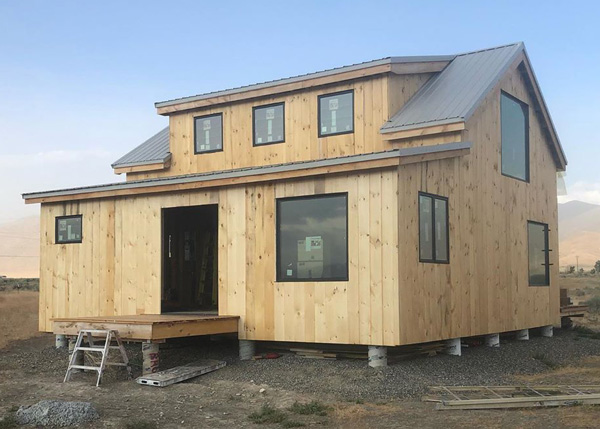 Jamaica Cottage Shop designs are post-and-beam, timber-frame designs that usually include a covered porch. Smaller designs can be mobile.
These ingenious ADU kits come with all the instructions handy adults need to put them together. The materials the kits include are all color-coded to make sure you get it right when you put it together.
Kanga Room Systems
Based in Texas, Kanga Room Systems offer convenient prefab home kits that are ideal for tiny homes and ADUs.
According to the company, building contractors assemble most of their cabin and home kits. But everything in their kits is pre-cut and supplied in panels that a savvy DIY builder can handle.
Kits include pre-framed walls, all the roof materials you need as well as rafters and decking. They make ADU ceilings from tongue-and-groove pine and have options for interior walls. You can specify your own doors and windows.
As with most of the kits featured, professionals must do all the plumbing and electrics to make sure they are legal. Foundations and decking aren't generally included in kits.
KitHAUS
A well-established California company that's been going since 2005, KitHAUS specializes in prefab modules that are ideal for ADUs. But they are all small, so you won't get a unit that's any bigger than 330 square feet.
What's really cool is that there are standard options that include bathrooms, kitchens, and outdoor showers.
All kits are pre-engineered at their factory and delivered to your site.
Mighty Small Homes
Mighty Small Homes aren't that small! This Kentucky-based company offers a range of kits, many of which you will find ideal for your new ADU.
Like many ADU kit suppliers, Mighty Small Homes supplies the basics in their kits. You will have to construct your own foundations, but you will get the exterior walls, roof panels, and the ridge beam. You will also get the house wrap, roofing felt for the underlay, the plate lumber, and about 160 feet of wire chases.
You also won't get the SIPs subfloor, upgraded exterior walls or roof panels, windows, doors, skylights, or exterior wall wiring chases or plumbing chases. If you want classic metal roofing, you're also going to have to pay more.
Some interior finishes are included, and there are specified extras that you can go for, including a standard-sized loft.
Q-haus
Q-haus produces prefabricated modular wooden structures, including houses that qualify as ADUs. The company's modular Cliff house is a great ADU option. At 785 square feet, it's small, but can be a perfect solution for family use and for rentals. Designs include as many as three bedrooms and two bathrooms.
Q-haus structures comprise two modules that make assembly easy. It is possible to customize various options including materials and colors. It can take less than a day for the house to be usable after assembly begins.
Shelter-Kit
Shelter-Kit has been producing home, barn, cabin, and garage kits for more than 50 years. Manufactured from wood, they feature pre-cut joints that are easy for amateur builders to slot together. Instruction manuals are also easy-to-understand.
Kits from Shelter-Kit include everything that you will need to build a weather-tight shell on the foundation you construct. Everything you need to build the shell is in the kit, but not doors and windows. The kit also comes with an illustrated construction manual that any competent handyman can follow.
Although structural drawings are not included in the kit, the company will provide these for a fee.
Star Energy
Star Energy's tiny home kit, which is ideal as an ADU, includes floor, wall, and roof panels, metal roof sheets, all the lumber you need, as well as windows, nails, doors, door knobs, 4×2 interior framing partitions, adhesives and screws. It also comes with full assembly instructions.
Whether you opt for a one-bedroom, one-bathroom or two-bedroom, two-bathroom unit, you can build it on a concrete slab or a low-cost structurally insulated panel (SIP) system floor. Electrical and plumbing elements aren't included in the kit.
Steelblox
Based in California, Steelblox specializes in modern, sustainable ADUs that are easy to build quickly. Popular models range in size from 120-1,280 square feet.
Steelblox designs are clean and modern, and they are also energy efficient. If you want a net-zero ADU, look at a Steelblox unit for inspiration.
The company's building process is also inspirational. First, you ask them to analyze your property and permit requirements. Then they will develop the best design for your needs and/or property. They sort out permits and do all the construction work. Then they fit and finish.
It sounds easy, but they are pros. The trouble is that you need to be in California to use their services.
Stillwater Dwellings
It's no surprise that Stillwater Dwellings is a California company offering far-out, magical designs that are perfect for ADU structures. The company specializes in prefab homes that they build in their factory and then ship to the site where they are erected.
This company employs LEED-certified architects, and they focus on sustainable building techniques and practices. Their mission is to minimize construction waste, improve the tight seal of buildings with decent insulation, and to ensure that energy consumption is minimized.
Stillwater has a fabulous Signature Series of plans that are ideal for ADUs. These range from a 1,000 square foot two-bedroom, one-bathroom plan to a 2,030 square foot two-story, 2.5 bedroom two story unit with en-suite bathrooms.
Summerwood
If you're looking for a wooden cabin that will qualify as an ADU, Summerwood might have your answer. They have a bunch of tiny house-type designs that are ideal for ADUs.
The company offers customizable kits, all of which have lovely standard features including red cedar sidings. They are ideal for DIY builders who want to install their own ADU quickly and easily.
Volstrukt Agile Framing Systems
Volstrukt offers the best of both worlds. The company produces ADU kits made with precision-engineered, lightweight steel frames. They also offer design services and will customize small homes and ADUs for customers.
Volstrukt uses computer-aided design for the ADU kits, which range in size from 240 sq. feet to a mini-mansion of 2,904 square feet. You choose your design and the level of finishes you want. The company will deliver all materials to the site.
The walls and roof panels of these designs are factory assembled. Because the kits are partially pre-assembled, it can take less than 30 days to erect an ADU. Some customers do it themselves, while others hire a contractor to do the job.
Zip Kit Homes
Located in Cedar City, Utah, Zip Kit Homes has been in the construction industry for more than two decades. The company has offered panelized construction, pre-cut framing modules, and various prefab designs over time.
The company offers standard floors plans and a builder package that includes purchase order sheets for materials. The kit comprises panels as well as posts, beams, trusses, windows, exterior doors, and other materials. Many of the kits that ZipKit Homes offers are ideal for ADUs.
Which Company to Choose
Many of the ADU kits featured in our list only offer basic structural components. But they're still a great place to start for DIY-savvy homeowners who want to add value to their property.
The only drawback is that not all of them deliver their kits countrywide. So, what to do?
If you are genuinely searching for a company that you can order an ADU kit from, start with our list of 21 suggestions. Then, if none meet your personal needs, expand your own research and see if you can find other possibilities. Just make sure that when you do find a company you like the look of, it's reputable and trustworthy.