Tiny homes are a huge trend these days. More and more people are learning to embrace minimalism in everyday life, shedding anything extraneous until only the essentials are left. If you, too, want to get on board the small house trend, we've found some home builders in Florida that can help. (More interested in a full-sized prefab or modular home in Florida? Click here.)
Here's our list of the best tiny home builders throughout Florida. Keep reading for more information on each of these excellent small home builders throughout Florida, including where they're located, the services they offer, and what we like about them.
Movable Roots
Starting our list is Movable Roots in Melbourne. Movable Roots started in Arizona when co-founder Mike and his wife lived in a tiny home on wheels for a while. They greatly enjoyed the experience and wanted to share it with others.
Now, more than 20 years later, Movable Roots is an established Florida home builder. You can customize your house or select from a predesigned model that's cozy and comfy. Of course, the homes are all on wheels!
What We Like
Have you ever imagined living in a jazzed-up trailer or maybe even a bus? Movable Roots makes mobile living in a small home stylish and attention-grabbing. Their custom options are sure to impress.
Tiny Studios
Tiny Studios is an eco-friendly business that recycles and repurposes shipping containers to build your dream home.
The builders convert shipping containers into convenient modular units with specially designed insulation. Besides, the containers already have corrugated steel shells with excellent insulation properties.
This business is also run by a father-daughter duo that handles tiny home building design and construction.
The modular units can be mounted or anchored, depending on what fits the requirements in your area.
What We Like
Builders at Tiny Studios typically require six to eight weeks to complete the project. However, you can opt for a stock unit with standard hookups for power, sewage, and water if you have time constraints.
The size of most of its homes ranges from 160 square feet to 480 square feet, but you can request a larger space if you prefer. The builders will discuss your needs before ensuring the final look and feel of the house is precisely what you want.
Cornerstone Tiny Homes
Cornerstone Tiny Homes in Longwood specializes in small homes on wheels as well. Their smallest home is 20 feet and their largest is 32 feet.
Every home is equipped with chrome-finished faucets, a porcelain bathroom sink and toilet, recessed lighting, an induction cooking burner, a fridge, and a heating and air conditioning unit.
What We Like About Them
The prices for the houses available through Cornerstone Tiny Homes are all under $100,000, which makes your small-home dreams very affordable!
Tampa Bay Tiny Homes
Cofounders Herbert Dorsey, Matthew Bader, and Brian Zmich created Tampa Bay Tiny Homes when they combined their decades of home construction experience.
You can select from three models through Tampa Bay Tiny Homes: the Breeze, the Burg, or the Current. Kitchen appliances and cabinetry, LED lighting, fiberglass bathroom appliances, and a washer/dryer combo are included. The home is insulated with spray foam.
What We Like
If you order a tiny house through Tampa Bay Tiny Homes, you'll quickly discover that small quarters do not mean sacrificing on luxury. These homes are utterly beautiful.
Holland Tiny Homes, Inc.
The home-building company once known as Sanctuary is today Holland Tiny Homes, Inc. They're still in the same place, which is Sanford.
The team behind Holland Tiny Homes is passionate about how a small home can transform your life for the better. You can save money and enjoy more freedom with a lot less space.
Their tiny houses include amenities such as a full-sized bed, stainless steel kitchen appliances, and wallpapering.
What We Like
Holland is eco-friendly. Their homes come with a 12,000-BTU ductless mini-split HVAC system as well as closed-cell spray foam insulation. (Ever wondered what air conditioner sizes mean? We explain here.)
Trekker Trailers
This company promises the highest level of personalization for its buildings. From tailgate party setup to graphics and chrome wheels, you can add diversified features to meet your dream specs.
What We Like
This builder uses best-in-class construction tools, materials, and techniques to build a structure that will last for years to come. Consider reaching out to them if you're looking for the perfect unit for all your camping and traveling adventures.
Tiny Home Builders Florida
The appropriately-named Tiny Home Builders Florida in Orlando has been in the home-building game for three decades and counting. They started with bigger homes and properties but found that they enjoyed building smaller homes much more.
Thus, small homes soon became the bulk of what the Tiny Home Builders Florida team does. The rest, as they say, is history!
What We Like
Peruse an impressive variety of designs on the company's website to find something sure to resonate with you. Their homes start at 41 feet, which is just intimate enough to begin your new minimalist life.
Sanctuary, a Tiny Home Company
Like Movable Roots, Sanctuary came to fruition when the owners decided to live in a tiny home to cut the cost of traditional living spaces.
Their experience of building a minimalistic house motivated them to help others live in tiny, eco-friendly homes. So they started building homes that told unique stories aligned with owners' lifestyles.
What We Like
Instead of standard stock options, these builders focus on including all design elements that complement the homeowners' taste and lifestyle. Tailor-made designs result in one-of-a-kind living spaces laced with minimalistic yet luxe elements.
Currently, the company provides houses on wheels only. Although they don't have a financing program, they partner with companies to make your dream home affordable. You can reach out to your builder for their recommendations if money is an issue.
Florida Tiny House Builders
Not to be confused with Tiny Home Builders Florida, Florida Tiny House Builders is next on our list. With nationwide small house delivery, Florida Tiny House Builders offers a variety of house designs to choose from.
There's the classic (and eco-friendly) Original Tiny House, the 26-foot farm-style Tiffany Tiny House, the 28-foot Beverly Tiny House, the dual-lofted Tony Tiny House, and the 12-foot by 40-foot RS3 Tiny House.
What We Like
Florida Tiny House Builders makes quaint homes on wheels that many will find charming. You can even get financing for your home.
Historic Shed
This company came into existence to make affordable environmentally-conscious designs accessible to all Florida residents. Its construction approach and materials ensure long-lasting results.
If you're looking to build tiny yet practical office space or want some additional living space in your backyard, this is the builder for you!
Historic Shed specializes in building prefab, eco-friendly sheds that can easily be installed on your property's foundation. These sheds offer mind-blowing historic aesthetics to preserve and reflect the area's architectural history.
The company offers more than ten home models to choose from. You'll find everything from tiny home sheds to parking attendant units. The structures are super affordable and versatile, making them an excellent choice for people with low budgets.
What We Like
You can order a fully furnished tiny home or buy the shed and decorate it yourself. In addition, while many home buyers opt for premade home options, you're able to request a customized home unit. The sheds come in various sizes, and the prices vary accordingly.
Tiny Homes by Design
One of your top concerns about getting a tiny home built in Florida is how well it will hold up when hurricane season rolls around. That's something Tiny Homes by Design accounted for as well, which is why their homes are built from concrete for awesome hurricane resistance.
The foundation of every home is a mere 18 inches. Concrete block construction is then strengthened with steel rebar. After that, the home builders add fiber mix concrete so your home can weather any storm!
What We Like
In your home by Tiny Homes by Design are LED lighting, a bathroom (with a vanity sink, a shower, and a toilet), and a full kitchen (well, for a small house, anyway) complete with appliances, a backsplash, granite countertops, and custom cabinetry.
Boxhaus Designs
In Hobe Sound is Boxhaus Designs, which was founded by Rick Gava, who also acts as the company architect. Every home that Gava and his team build is small and can be completely customized to match your tastes and personality.
The base models are the Caboose, the Odin, the Pandora, the Kamphaus, and the Obelisk-1.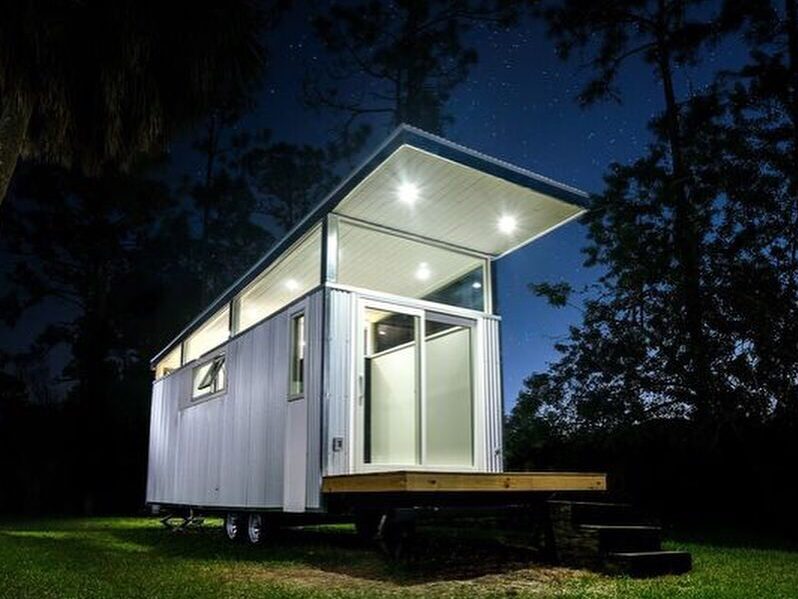 The Caboose is a wood cabin-style loft home. The Odin has a distinct Scandinavian flavor while the Pandora draws its inspiration from Florida's cracker houses. Boxhaus' Kamphaus is another Scandinavian wonder with large windows, and the Obelisk-1 or OB-1 is the newest tiny house in the crowd. It's also the lightest structure that Boxhaus offers!
What We Like
When building their brand of small homes, the Boxhaus team is dedicated to green solutions whenever possible. Your tiny new home will be both breathtakingly beautiful and better for our planet.
Daytona Tiny Homes
Silver Spring's own Daytona Tiny Homes customizes small homes with a rustic charm. It draws up the blueprints for your dream home, procures the materials, and then starts construction before you know it.
What We Like
Daytona Tiny Homes has an unerring dedication to customer service that will make starting your home construction project a delight.
R.J. LaBadie Construction
If you're based around Englewood and you're exploring your options for tiny homes, you should strongly consider R.J. LaBadie Construction. This turn-key house construction company will help you plan your lot, clear it, and grade it. Of course, you can rely on the R.J. LaBadie pros to build your tiny custom home as well.
Although your home might not be very big, that doesn't mean you have to skimp on amenities. You can order your small home with a patio and a full living area.
What We Like
R.J. LaBadie also offers services like steel building construction, bathroom and kitchen renovation, house remodeling, room additions, and new home construction. Its a good construction company to keep in your bookmarks list!
Ez2Tinyhomes
Jupiter's Ez2Tinyhomes designs bespoke small homes. They offer even more intricate designs, and the team will customize the build of your home from the ground up so the tiny house matches your every specification.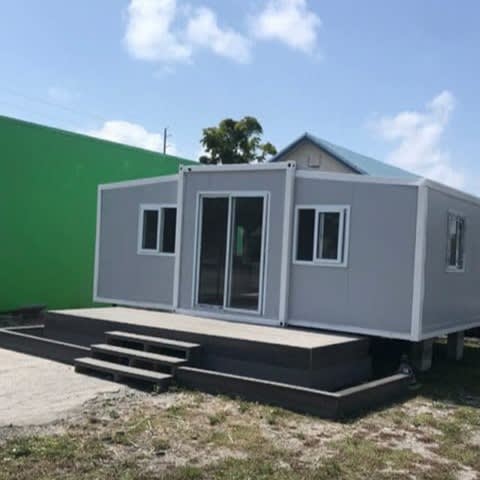 What We Like
Ez2Tinyhomes even builds properties with disability access—a truly inclusive company.
Tanner Construction Group
Tanner Construction Group is one of the top custom tiny home builders in Florida, serving Alachua and surrounding areas. This family-owned company focuses on the community's welfare and strives to make people's property dreams come true without breaking the bank.
It has a team of expert builders dedicated to building your new house with pre-engineered buildings. The team will optimize every nook and corner of the space while ensuring optimal comfort and energy efficiency. This way, you can live clutter-free and reduce your carbon impact.
What We Like
Whatever design ideas you have in mind, you can share them with these home building specialists. They'll give you an estimate before getting the ball rolling. Not to forget, the initial consultation is 100% free!
Geary's Sheds & Tiny Homes
In St. Petersburg is Geary's Sheds & Tiny Homes, a small company that began in 2016. The Geary's team will guide you through pre-construction planning, including the materials list. Then it'll begin building your dream teeny home.
What We Like
If you're new to the home-building process and you need a helping hand, Geary's is a great company to choose.
Southland Log Homes
Calling itself "America's favorite log home," Southland Log Homes is the last tiny home builder in Florida we've included. Southland has locations across the country, with one in Lake City as well.
Their log homes are utterly charming and small as well, with some around 1,000 square feet. Southland also builds much larger homes, but its website mentions that you can customize any design without paying extra.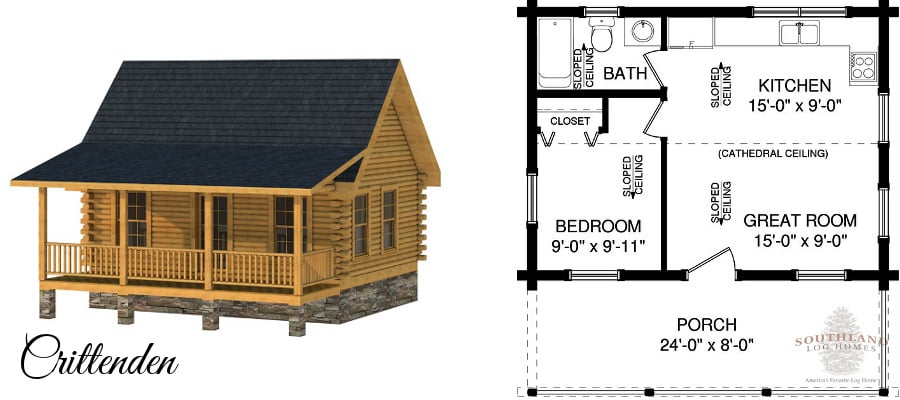 What We Like
With virtual tours and a design tool, planning your ideal log home through Southland is easily done online!
Conclusion
The great state of Florida is packed with tiny home builders. The eighteen companies we highlighted today prove that no matter what small means to you, you can have a home built that suits a freer, more affordable lifestyle!