Attainability by Hourly Wage
How much would you need to earn per hour to pay for a two-bedroom apartment in each state? This chart breaks it down. Hawaii is highest at $36, followed by California at $34, Massachusetts at $33, Washington D.C. at $32 and New York at $30. For the lowest five states, $14 per hour was the magic number in Alabama, Arkansas, Kentucky, Mississippi and West Virginia.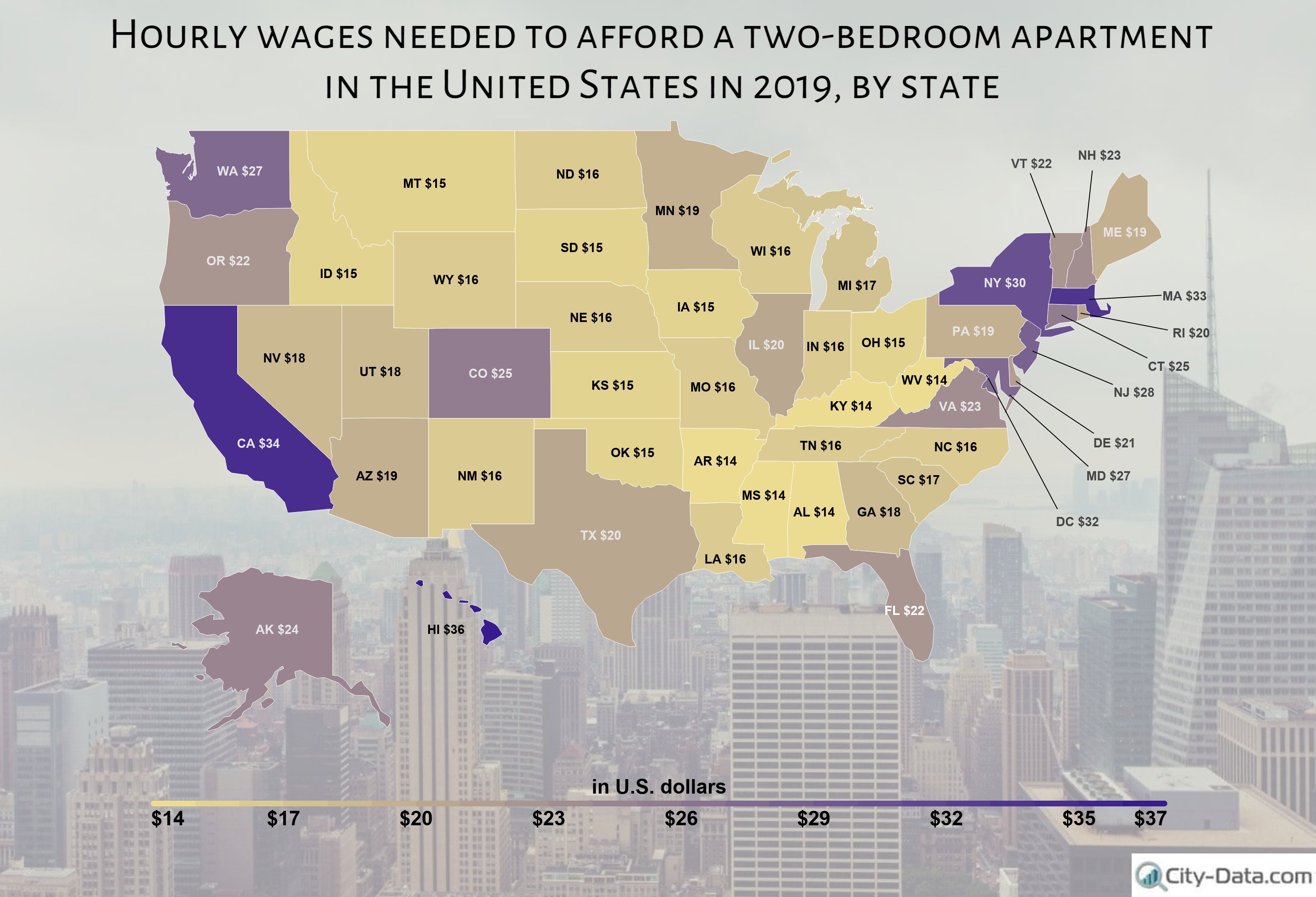 Remodeling Your Mortgage
Forbes highlights two businesses that are shaking up the home mortgage business. Unison characterizes itself as a "co-investor" rather than a lender. They typically help homebuyers with the cash needed to make a 20 percent down payment (one of the main obstacles to home ownership for millenials), resulting in lower monthly payments and more equity from day one. Then, when the buyer is ready to sell, Unison gets back their money plus a share of the appreciation of the property (and they take a loss if it depreciates). Next up is Fleq, helping buyers overcome what Founder and CEO Todd Sherer calls "six barriers to home ownership"–affordability, attainability, flexibility, sustainability, portability and convenience. Fleq becomes a cash buyer for their customers' homes, forming an "alliance" in which the new homeowner can buy equity in the home from the company as they are able, while paying a lease to live there.
Interest Rates: Falling Back and Springing Forward
The headline Fed makes largest emergency cut to interest rates since the financial crisis pretty well sums up the article from the Washington Post. With the markets plummeting in the face of coronavirus and a looming recession, the Federal Reserve took the drastic action of cutting interest rates half a percent. The last time that happened was in late 2008. Click through to read why this action was met with mixed reviews and only a short-lived response from the markets. (Below is a 62-year historical chart of the Federal Funds Rate.)
Continuing the falling rates theme, Yahoo finance reports that mortgage rates are at their lowest point in fifty years. Not surprisingly, mortgage applications are up, underscoring positive predictions for the housing market to keep improving this year.
Spring is the time for home sales to pick up, even without mortgage rates being cut. Realtor.com tells where the twenty hottest housing markets were in February. Colorado Springs took the number one position, but despite its housing problems, California held an impressive ten of the top twenty spots, while Phoenix earned the distinction of being the most improved.