How are we gonna pay for it?
That's one of the first questions most of us are going to ask when we're contemplating home improvements.
Specifically, improving efficiency or adding renewable energy may seem noble–but unattainable–because of the expense.
We want a comfortable home. We want lower energy bills. We know we should be reducing our carbon footprint.
But.
Owners of older homes with high energy requirements may face a conundrum: paying to operate the house prevents saving money to pay for improvements. Without improvements, the high bills just keep coming. With all those bills, there's no extra money for improvements. How can we get off that energy-and-money-go-round?
Don't whip out your high-interest credit card or throw up your hands in despair just yet. There are a few financing options out there that are specifically tailored for people who want to improve their home's efficiency and sustainability.
Finding the Right Loan or Mortgage
These resources can be a little hard to track down, though! We've scoured the internet for every resource we could find. And we've created an ultimate guide to all the different loan types for an energy efficiency and/or renewable energy project.
Which loan is right for you depends on a number of details: how much money you need, the type of improvements you want to do, where you live, and how much equity you have in your home, to name a few.
Running through all the prospects can be time consuming. And if there's anything besides money that most of us are short on, it's time! So we hope our guide here will help you narrow down which options best fit your situation.
To start off, there are two main possibilities. The first type is a loan separate from your mortgage. Maybe you have one single specific project to finance that isn't too large. Or maybe the terms of your existing mortgage are really great, and refinancing would change them for the worse. The second possibility is that you want to roll the cost of energy improvements right into your mortgage. (This can apply whether you are buying a property or refinancing your existing mortgage.) With interest rates at record lows, this could save you money, along with the added convenience of a single monthly payment.
Be Prepared
Besides energy efficiency improvements like insulation, windows, or solar panels (to name a few), many of the following options can also be used to pay for resiliency measures that help prepare your home for natural disasters (such as foundation upgrades in earthquake-prone areas).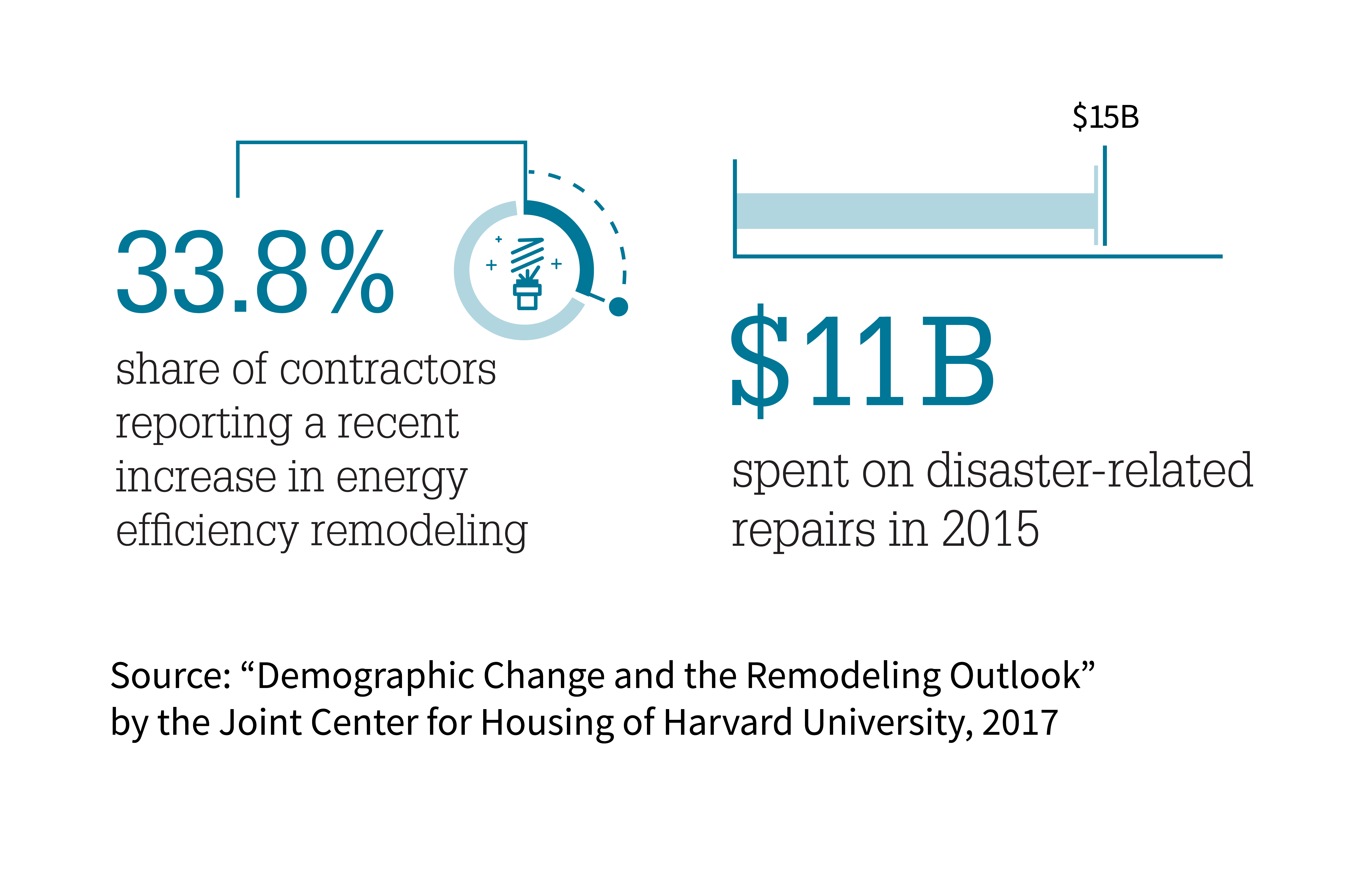 Loan Options
If you have a particular project in mind that you want to take out a loan for, here are a few alternatives that could work for you.
HUD Title I Property Improvement Loans
Title I Property Improvement Loans are a fairly across-the-board option. They're available no matter where you live, and to get one, all you need is a decent credit score. You can borrow up to $25,000 for a term of up to twenty years to repair or improve a single-family home. Amounts up to $7,500 don't even require collateral.
You can get this type of loan from almost any bank or lender. The lender, in turn, is insured by the FHA, as authorized by Title I of the National Housing Act.
You can use the money from this type of loan for everything from building permit fees to solar panels.
PACE (Property Assessed Clean Energy) Loans
PACE loans are location-dependent, with local funds usually provided through municipal bond sales and administered to homeowners through an authorized lender. They are repaid through an additional payment on your property taxes each year for a set term. You can use them to pay for improvements that increase the energy efficiency of your house, such as new windows, insulation, or HVAC (among others). If you sell, the extra property tax payment is automatically the responsibility of the new owner. The amount of a PACE loan doesn't depend on the borrower's credit, but on the value of the property. As of this writing, PACE programs for residential properties are only up and running in Florida, Missouri and California. Other states have legislation in the works to make this funding available, though, so if this kind of loan seems like the right fit for you, check to see if it might be available soon in your area.
Contractor Loans
If there's a green contractor in your area you want to work with, check to see if they offer in-house financing. There are lenders who partner with contractors to help them offer loans to their clients (one such example is EnerBank). These loans often have pretty attractive terms, and they won't impact your home equity.
Solar Loans and Leases
Because solar is one of the best-known and widely available forms of alternative energy, there are a lot of financing options specific to solar photovoltaic (PV) systems. They all boil down to three major options, though:
First, you can simply take out a loan like you would for any other project. Once it's paid off, you own your system. You get all the benefits of the energy produced, but of course, you also have to make sure everything is maintained in good condition to function properly.
Second, some companies offer leases on solar panels for houses. In this scenario, the company installs a system on your property and maintains it, while you make a set monthly payment (which is ideally significantly lower than your current energy bill). What happens at the end of the lease depends on your agreement: you may then own (or be able to buy) the system, or it may go back to the company.
Third, you can have a PPA or Power Purchase Agreement with a solar company. Again, the company installs and maintains a system on your property, but instead of a lease, you pay them for the energy you use at a per-kilowatt-hour rate, much like you would for conventional electric.
Each of the three has its own pros and cons depending on your specific situation and your motivation for going solar.
This is a very basic breakdown, but if you want to really dive in, here's a guide from Clean Energy States Alliance that goes into much more detail and also explains a lot of the common terms you may run across when researching solar options. It even includes a handy checklist to help you determine whether solar energy is a good fit for your home.
EnergySage.com also has a ton of resources, including links to specific companies that provide all the types of financing for solar PV systems.
State and Local Programs
This wouldn't qualify as a "quick" guide if we ran down all the local options for every state in the U.S. But you should definitely check to see if there are local initiatives encouraging people to go green in your area. Besides financing options, many states will have tax incentives or rebates for energy-efficient improvements.
DSIRE is the Database of State Incentives for Renewables & Efficiency, complete with a handy interactive map you can click to find helpful links for your home state.
Conventional Home Equity Loans
If you already have quite a bit of equity in your home and you don't mind borrowing against it, a conventional home equity loan can be a quick way to get the cash you need to make improvements. Your lending institution of choice will appraise your home's value and issue a corresponding loan that you will make monthly payments on. Just make sure you've done your homework so you'll know that your energy savings will offset the additional monthly expense.
Mortgages
If adding another loan to your list of monthly payments doesn't appeal to you, there are several ways to add the cost of home efficiency improvements right into your monthly mortgage payment. This could make a lot of sense if you want to purchase a home that you know you want to improve right away. It could also be an option if you want to refinance your existing mortgage, keeping your debt load more consolidated.
Looking back to our example at the beginning of the article, lenders recognize that getting your utility bills under control by making improvements to your home's efficiency will enable you to make a higher monthly mortgage payment. And once your mortgage is paid off, you'll really feel the benefit of those lower energy costs. The earth, however, will feel the benefit of your eco-friendlier house right away.
In fact, this is our whole purpose here at Attainable Home. We want to help people use the tools and financing available to create net-zero housing, all while lowering your monthly payments.
This is the true win-win-win for the environment, consumers and contractors. And it's now possible due to better and cheaper technology, lower interest rates, expanding loan types, and rising energy prices, among other things.
EEM (Energy Efficient Mortgage)/EIM (Energy Improvement Mortgage)
To qualify for an EEM, you'll need to get an energy assessment of your property. A qualified contractor will estimate how much you could save each month based on your current energy usage and how much you'd have to spend to make it happen. Then you can be approved by your lender for a mortgage amount that includes both the actual cost of the house plus the cost of the necessary upgrades.
Typically, the amount designated for efficiency improvements will be set aside in an escrow account, to be paid to the contractor after the work is completed.
Conventional
A conventional Energy Efficiency Mortgage can be arranged with almost any mortgage lender. Check with yours directly to find out what they may require in terms of energy audits, documentation and escrow accounts.
FHA
Mortgages made through the Federal Housing Administration often have lower required credit scores and down payments than conventional mortgages. If you qualify for this type of mortgage and you also want to finance energy improvements, your lender will have access to the FHA EEM Calculator to compute exactly how much you can finance. As a guideline, though, you can add onto your mortgage 5 percent of: a) the adjusted value of your property, b) 115 percent of the median home price in your area, or c) 150 percent of the national conforming mortgage limit (whichever of the three amounts is lowest). The amount can also be based on your home's energy assessment.
VA
Veteran's Administration mortgages offer those who qualify great terms with little to no down payment and more flexibility than a conventional mortgage. This is also true of an EEM or EIM through the VA. If you want to do more than $3,000 worth of improvements, you'll have to have an energy audit done to document your expected utility savings. More than $6,000 worth of improvements requires proof that the value of the property will go up equal to the amount being spent on improvements (besides saving on energy costs).
HUD
HUD offers an Energy Efficient Mortgage Homeowner Guide outlining their own benefits here.
Fannie Mae HomeStyle Energy Mortgage
This mortgage can cover up to 97 percent of the property value (i.e., Loan-to-Value is high, allowing for a smaller down payment). The amount financed for improvements can be up to 15 percent of the value appraised after the improvements are done.
While the EEM requires an energy report for the property and the expected utility savings based on upgrades, the HomeStyle mortgage offers a waiver on the energy report for select projects. These include weatherization (up to $3,500), devices to improve water efficiency, renewable energy sources (solar, wind, geothermal), resiliency measures, and repairs of environmental hazards.
Freddie Mac GreenChoice Mortgage
The Freddie Mac GreenChoice Mortgage offers the same terms and conditions as its Fannie Mae counterpart.
Conventional Cash-Out Refinance
If you have a decent amount of equity in your house and a good credit score, it might end up being simpler to do a traditional refinance using a cash-out option to get some of your equity back into your bank account. You'd still want to do the legwork of getting an energy audit to help you decide which improvements are going to save you the most. After that, though, it's up to you to make sure you actually use the funds to do the necessary improvements. If you give in to temptation and take a European vacation instead, your monthly energy savings aren't likely to offset your higher mortgage payment (unless you stay in Europe and your house stays vacant).
Let's Improve!
Ultimately, improvements to your home's energy efficiency will pay for themselves. In the meantime, though, we hope these resources will help get you started on your way to a more efficient (maybe even net-zero!) home.
If you have personal experience with any of these types of financing, we'd appreciate hearing from you in the comments. Your firsthand knowledge could help someone else who's in a similar situation.